31 March, 1 and 2 April 2023
The Greatest International Trainers Come Together For Your Financial Future
Alfio Bardolla Tranining Group is the
European market leader in financial education.
Alfio Bardolla Tranining Group is the
European market leader in financial education.
The life you've always dreamt of is closer than you think: it is your responsibility to stand up for it, achieve and live it. Nobody can do it for you.
In order to do so, you need that one tool essential for freeing your time and devote yourself to what really matters to you. Such a tool is your financial education.
Think about it: what are you giving up to afford your current living standard?
Everybody does something for money, even when he thinks he doesn't: some take on jobs they despise to pay the bills, some accept unbearable shifts and forego their family time, others are ready to spend their days with colleagues whom they won't go for a coffee with.  
All of this happens because we are used to think that money is more important than freedom.
And yet money is not the goal: it is just the instrument, the necessary energy to fulfill your dreams.
Therefore it is important to understand how to produce, manage and protect money, regardless of what your profession is.
This is the only way to earn your desired standard of living and have more time for what you love.
Browse this website to learn more about our vision and how we can help you building a better life for yourself and those you love: a good starting point are our Free Resources
Stai realizzando i tuoi sogni?
Nella società di oggi è difficile avere tempo per realizzare i tuoi sogni. Quante volte hai pensato "non è possibile, è troppo complicato" oppure "se non lo hanno già fatto, ci sarà un motivo"
Avere tempo da dedicare ai tuoi sogni è importante, vuol dire realizzare il tuo massimo potenziale come essere umano.
Ma quali sono i sogni più comuni delle persone?
Per realizzare questi sogni hai bisogno di sviluppare la libertà finanziaria.
Naviga il sito per scoprire di più. Un buon punto di partenza è la sezione Risorse Gratuite, da dove potrai cominciare a costruire la tua libertà finanziaria.
Understanding how money works is civil right.
Living the life you deserve is your responsibility.
Un'ora di formazione di altissimo livello per darti tutti gli strumenti per raggiungere la Libertà Finanziaria.
L'unico software che semplifica e automatizza l'attività dell'investitore immobiliare.
Società quotata al mercato
AIM Italia da luglio 2017
Alfio Bardolla Training Group
Scopri tutte le informazioni sull'andamento della società nella sezione Investor Relations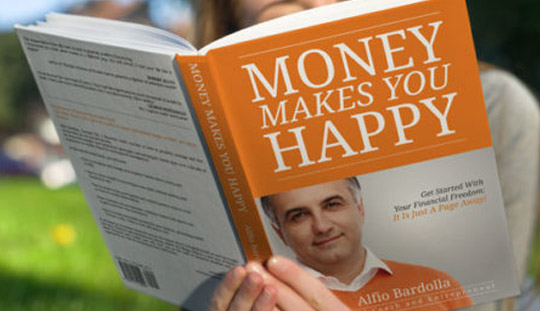 An internation bestseller: with Money Makes You Happy you will look at money with different eyes, …