In order to have the future you dream of, you need to make the right choices. Especially in terms of money.
"Were it so easy, everybody would do it". Most probably this is the answer you got when you tried to find a different way to earnings, your own way. Slowly, you almost started thinking that it was impossible to do it in a smarter way, as they said.
My experience is different. It is possible to radically change one's financial situation; it is possible to improve one's life and one's dears', but it all starts from our beliefs about money.
Survey data report that 80% of the people, at least in the West, believe that the future will bring a worsening of their living conditions. People tend to see themselves older in the future, poorer, without safety nets and with fewer opportunities. This is, however, a self-fulfilling prophecy, and because of it many let their life flow away without taking the chance to decide who they are and how they want to live.
Your economy and the economy of your country are separate and distinct.
We live in a world with both millionaires and homeless people, and this should be enough evidence that a person's economy is distinct from his country's. If your neighbour loses his job, it doesn't necessarily mean that your economy will also suffer because of it: the two situations in this example have no practical correlation.
In the past, people needed but to find a good job, work till retirement, buy a house and save money in order to become rich. Nowadays, this doesn't work anymore.
Nobody told you yet: you are taking important financial decisions based on pieces of advice that no longer apply in our days in age. These beliefs about financial stability are precisely 6 and, most probably, you have heard them repeated like a mantra throughout your life:
Important: these advices are not absolutely wrong, but they are not as valid as they used to be, and surely they won't grant you prosperity in the world we are living. Namely they are outdated since 1971, when President Nixon severed the final link between US dollar and gold. The consequences weren't obvious at the time, but eventually it reshaped the international economic and financial system completely.
Let's switch topic for a moment and think about how education and training have changed since then:
Financial education is a word that might sound complex: my commitment is to explain as clearly and bluntly as possible everything relevant about it so that you can apply it directly into your life. reshaped the international economic and financial system completely.
Let's switch topic for a moment and think about how education and training have changed since then:
Cos'è l'educazione finanziaria
L'educazione finanziaria deriva dalla capacità di un individuo di gestire i propri risparmi e scegliere i migliori metodi e strategie per generare denaro. Imparare l'educazione finanziaria vuol dire acquisire gli strumenti pratici necessari per prendere decisioni efficaci dal punto di vista finanziario.
Secondo studi recenti, l'80% degli italiani pensa che il futuro comporterà un peggioramento della loro condizione. Si vedono più vecchi, più poveri, con meno tutele e con meno opportunità. Come una profezia che si auto-avvera, la vita scorre lasciandosi scappare l'opportunità di decidere tu chi vuoi essere e come vuoi vivere.
Viviamo in un mondo in cui puoi trovare allo stesso tempo milionari e senza tetto. Questo accade perché se ci pensi, la tua personale economia è distinta da quella del tuo Paese: non è detto che se il tuo vicino ha perso il lavoro, anche la tua economia ne soffra. Non c'è nessuna correlazione pratica tra le due situazioni.
Un tempo per diventare ricchi si poteva semplicemente lavorare fino alla pensione, comprare casa e risparmiare. Oggi questo modo di pensare non ha più alcuna chance di successo.
Nessuno te l'ha mai detto chiaramente: stai prendendo decisioni finanziarie importanti basandoti su consigli che oggi sono sbagliati. Sono 6 e li hai sicuramente sentiti ripetere come un mantra per tutta la tua vita.
Attenzione: non sono in assoluto sbagliati. Il problema è che non sono più validi, non ti permetteranno di prosperare nel mondo di oggi. O meglio, non lo sono più dal 1971, anno in cui il presidente americano Richard Nixon sganciò il valore del dollaro dal valore dell'oro. Ai tempi non si fece tanto caso a quella variazione, ma fu quella che trasformò del tutto il sistema economico e finanziario internazionale.
Se pensi all'evoluzione della formazione da allora, noterai che:
L'educazione finanziaria è una parola che suona complessa. Il mio impegno è quello di spiegare in modo semplice e diretto tutto quello che è importante sapere e che puoi applicare subito nella tua vita.
Alfio Bardolla Training Group is the European leader in financial trading.
The company is listed on the Italian stock exchange in the AIM segment and won the 2018 Great Place to Work's Best Workplaces competition for Italy.
Through our seminars, product and courses, we teach how to develop the right strategies, practices and methodologies to create and manage one's personal financial assets, so to free as much time as possible from revenue-creation activities.
Said result requires no specific educational or professional background, as most well-esteemed professions usually have a culture of bargaining one's time for money.
Nonetheless, we are not saying it is going to be easy.
When you ask for a personal trainers' help to get back in shape, you will only see results provided that you commit to exercise regularly. The same is with money: only exercise and commitment will make you financially free.
Our mission is to give people the responsibility of realising their dreams by developing their financial culture.
Determination is crucial regardless of where you start from: when the heart is strong the how is never a problem.
people trained at Alfio Bardolla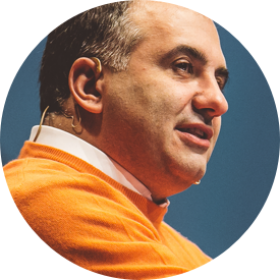 We make dreams come true: together we will become better individuals, better parents, better children and we will create a better society.
Alfio Bardolla is the founder of and master trainer at Alfio Bardolla Training Group S.p.A., the European leader in personal financial education with more than 29.000 students trained through seminars, 1 to 1 coaching, video and audio courses. The company operates in Italy, Spain and UK.
Alfio published 7 books, among which Money Makes You Happy, for more than 300.000 copies. He also founded 30 companies in the last 20 years in different sectors across Europe and his personal net worth is evaluated in 40 million dollars.  His mission is helping as many people as possible to live a full life through a wise and informed management of their personal finance.
As philanthropist, Alfio is among the main supporters of the project CharityStars and other associations advocating and supporting literacy world-wide. Since 2016 he is member of Endeavor, a non-profit organization that identifies and support high-potential entrepreneurs.
Sogniamo in grande, perchè i sogni piccoli non hanno potere.
Sei un talento e ami la formazione?
Entra nel nostro team!
Cosa dicono i nostri corsisti